Muskrat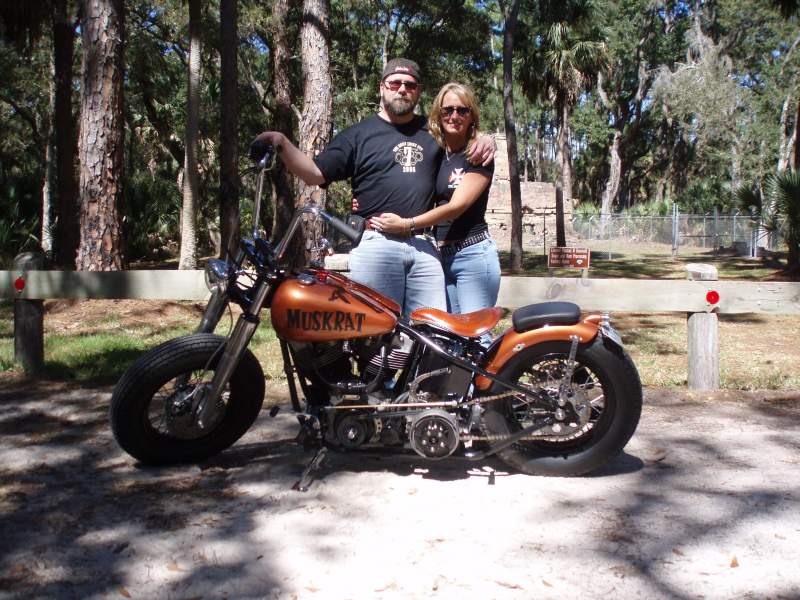 The Muskrat is a bike that I started planning on a road trip back from the Hardtail's Only Party in Milwaukee. I was inspired by bikes that had been owned by the same owner for many years and had evolved into bikes that were comfortable to ride and functional. I was on my Number 1 shovel, and while it was marginally comfortable I realized that traveling on a hardtail could be made VERY comfortable. This was also to be a "Mister Potatohead" bike – the kind of bike that I could change to suit my tastes from year to year, and test out new products too. It had to be able to carry 2 people, had to have saddlebags, and I wanted the bike to be quiet too. The Horse's Stampede run was coming up in June, and I thought that would be the perfect test to see if I accomplished my goal. Barstow California to the Smoke Out East should be a nice ride.
I started with a 1979 FX frame that I traded some parts and services for. It was a straight frame, and I hardtailed it with a set of re-pop HD axleplates. I widened the rear section a little more than stock to make fitting a disc brake a little easier. I scrounged up a 41mm FL front end, and had Doug of Doug's Customs lace me up a set of black rims. I wanted to fit a stock Panhead oil tank, but I had a Rotary top trans and they are taller than a ratchet lid, so I made a tank that was as close as I could get to stock.
I got lucky and scored a 1982 FLT from a tip by my friend Chris. I was able to sell off the complete bike with title, and keep the Shovel Motor. Dan Roedel brought his engine test stand over, and with several runs on the stand I decided that I could try running the motor without a rebuild. Hopefully, I didn't make a bad call there.
The trans is an '81 4 speed that I got from Keith in Texas in trade for some parts. It was flooded and needed a rebuild, so a new mainshaft and a handful of bearings, seals, and bushings later it was back together.
I used a BDL 1 ½" open primary with Energy One clutch plates to connect it all together. I made a 2 into one exhaust and adapted a dirtbike Supertrapp muffler to keep it quiet. For an oil filter, I made a plate that bolted to the motor and it holds a late model evo filter and the ignition coil. I had removed the stock coil moints on the seatpost when I hardtailed the frame, and needed to put the coil somewhere without having to weld to the frame (since it had to get to the painter fast!).
I scored a deal on a set of 3 ½ gallon tanks, but they turned out to be some bastard size. They aren't quite 5 gallon tanks, but they are bigger than 3 ½. I used a front fender from Mid USA on the rear, and fitted a Singleshot light to the top of it – kind of like a Sparto. I wanted to be able to throw bags on it without hitting a sidemount light. My friend Bob of Bodies by Bob painted them with some copper-brown metallic lacquere that had been on his shelf for 15 years. The frame he painted in black chassis paint.
I made up a seat pan with an integrated seat hinge and sent it to Duane Ballard. Besides being one of the most talented leathersmiths, he also makes you feel like you are family when doing business with him. The seat is SUPER comfortable, and is easily the prettiest part of the bike too.
I narrowed up a cheap set of 12" apes, and fitted the bike with some Japanese caliper front and rear. I used a set of my forward control adapters to fit a late model set of Softail controls too. Jason of JR Cycle offered to wire the bike for me, and I'm glad I took him up on it. He did a super-sano job in no time. I will never wire a bike again! He wired in the Dyna S ignition and the antique Unity headlight. All the wires are exposed, but so clean that they disappear.
Irish Rich sent me one of Dennis Goodson's newest air cleaners, and it looks perfect for the bike.
I fired it up 2 days before we left for Daytona. It seemed to run good, and I was confident that the bike would carry us around in Florida without any trouble. Aside from a minor clutch problem (because I pre-oiled the plates before installing them), the bike ran flawlessly.
I'm happy with the result: it is a strong, solid, simple bike that may not win any shows – but is comfortable and a blast to ride. I've had several friends ride the bike. My friend Chris from the local welding supply house had never ridden a foot clutch bike before, and rides this bike like he's been on it for years. Mala of Kopteri magazine in Finland took the bike for a couple hour ride in Daytona, and paid me the ultimate compliment. "This is a RIDERS bike!" were his exact words. To me, that means more than winning a show.